I bought a Sony Xperia XZ2 [SOV37] that was just released on May 31 of this year!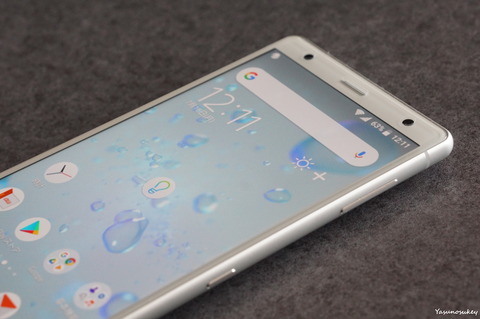 Although I have used this smartphone for only a few days, I am going to write about my impressions and the things that I like about it.
Finally became a smartphone user
My nine-year old flip phone was on the verge of breaking down. The enter, 2, 5 and 8 keys fell off and other keys were destined to fall off, too.
My four and a half year old tablet, Nexus7 (2013), has also been in and out order. It froze from time to time, and the Skype app has stopped working. Without Skype, I cannot receive homework from my students or get in touch with them on lesson themes. (I managed by logging in to Skype on my laptop more often than I usually do.)
I originally planned on getting a smartphone in the summer next year (and I have saved up in the past two years for it.) However, I decided to get a smartphone this month because I would be in trouble if either of my flip phone or my tablet stopped working.
I have always wanted a smartphone! A 33 year-old guy has finally gotten his first smartphone.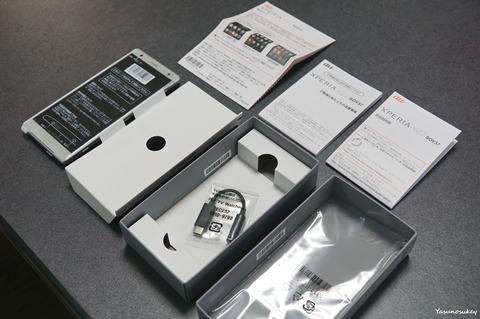 Unboxing the Xperia XZ2. The phone came with manuals and a USB typeC to audio adapter. That's all. Sony didn't bother to include a USB-C cable, which is necessary to charge the phone.
▶
Back to INDEX
Reasons why I chose Xperia XZ2
Big and beautiful screen
I compared the XZ2 with its previous model, XZ1, at a phone shop and found out that the display was so much bigger and better. The XZ2 has a 5.7 inch display, whereas XZ1's display is 5.2 inches.
The new phone is much heavier than the previous model, though. The XZ1 weighs 156g, but this one weighs 198g. It is heavy, but I think it's reasonable, considering that it is equipped with a larger battery (from 2700mAh to 3060mAh.)
フォトスク 「Xperia XZ2」と「Xperia XZ1」の違い [External link]
▲This website elaborates on the differences between the Xperia XZ2 and XZ1.フォトスク 「Xperia
Comparing my XZ2 with my father's iPhone 6s. It's huge.
It's much heavier than the iPhone, obviously.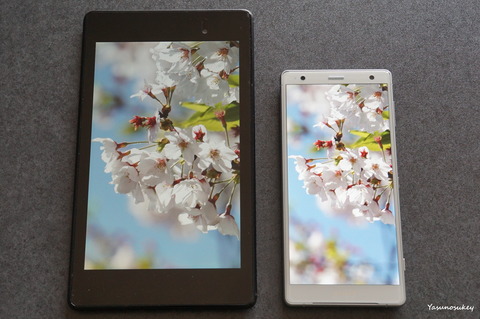 Comparing the display with Nexus7(2013).
I remember that I was surprised by how beautiful the display of the Nexus was, but XZ2's is more detailed and bright. (I put a blue light reduction film on both the tablet and XZ2. And the brightness is at the maximum on both screens.)
Wireless charging "Qi"
I am the type of person who wants to make any device last long by using it gently and carefully. I thought the "Qi" wireless charging function would reduce the risk of the USB port breaking, and that appealed to me. Unlike flip phones, smartphones need to be recharged at least once every few days, so the Qi has a huge advantage from that standpoint.
Water resistant camera
The XZ2 is water resistant, and that's the primary reason why I chose this phone out of all smartphones. I do not take pictures with my main camera, a6000, in the rain out of fear of getting it wet (which will lead it to a mechanical problem.)
However, I can enjoy photography with my XZ2 in a situation where I used to give up on taking pictures. (I still cannot even touch my phone with a wet hand.)
There is Manual mode which enables you to choose all the settings that include ISO number, shutter speed and white balance (you cannot change the aperture, though.) I am going to try every setting on this camera!
▶
Back to INDEX
First impressions
In comparison with the Nexus7 (2013), the only Android computer that I have used, the Xperia XZ2 works brilliantly. The XZ2 has to work faster than the Nexus, of course, because the RAM for the Nexus is 2GB and for the XZ2 is 4GB, and Nexus works on Android 6.0.1 and the other is on 8.0.0. I love how quickly the phone works!
・You can unlock your phone with your fingerprint, and I found it really useful!
It will save you from typing in a password every time you use your phone. You just put a finger on the sensor on the back, and that's it. If the phone should fail to recognize your fingerprint, you can also unlock your phone with pattern lock, pin number or password, so you can use it without too much worrying about being locked out.
・Some may think that 3060mAh is not enough, but I think the battery lasts long enough for me.
I used the phone all day to get all the apps ready for use, but I still had 50 percent battery left. I talked with my friend on the phone for about 40 minutes, but it took only five or fewer percent.
・About the speakers, they play back better sound than I expected.
It cannot blast lower sounds as tabletop speakers do, but the sound quality is really good.
・I cannot finish this section without mentioning the camera
. It is not completely surprising given that it's made by Sony, but still I am amazed by the quality of the camera. How good the camera can be largely relies on the quality of the lens, so it's incredible that the camera can capture such beautiful images through this tiny lens.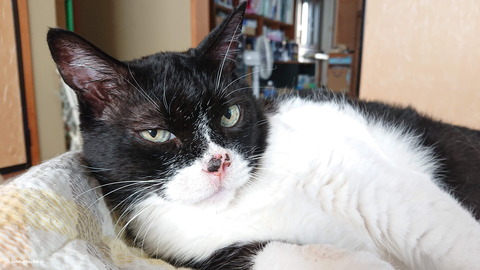 I took the picture of my cat, Sora, on the rear camera. It depicted every single whisker.
Just like other Sony cameras, including the a6000, the XZ2 camera can create beautiful images under low-light settings.
What I do not really like about the camera is that it cannot set the minimum resolution of the images lower than 12 megapixels for the rear camera and 4 megapixels for the front camera. I store all the pictures that I take on my laptop, so large images make it hard for me to keep them.
With this camera, I'll probably take the kinds of pictures that I share instantly and casually on SNS, rather than the kinds of pictures that I keep forever. I usually take pictures at 6 megapixels on my a6000 and at 12 megapixels only when I go to events or other occasions.
I'm going to take a lot of pictures on this camera and share them on this blog. Please look forward to it.
You can record videos in super slow motion. You can film the super slow motion by tapping the record button on the screen while filming. It's easy.
I'm not a video creator, but this mode is incredibly fun! I would like to film birds at the moment of taking off.
▶
Back to INDEX
Accessories for Xperia XZ2

▼USB-typeC cable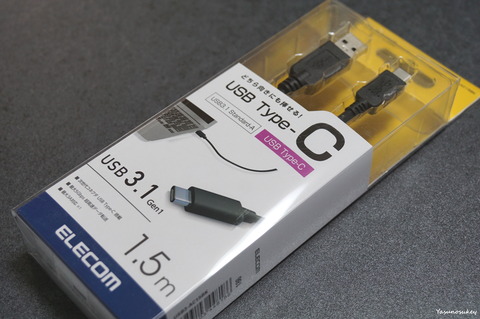 You cannot even charge your battery without it. The Xperia XZ2 is my first device that's equipped with a USB Type-C port, so I bought a cable that has USB-A on one end and USB-C on the other.
With this type of cable, you can recharge your battery through an USB port on your computer or car navigation system.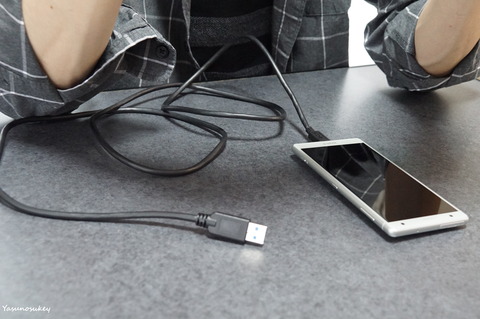 This cable turned out to be much thicker than I thought. If you are considering taking a USB cable around with you, you may want a much thinner one.
▼Flip cover Sony Style Cover Stand SCHS40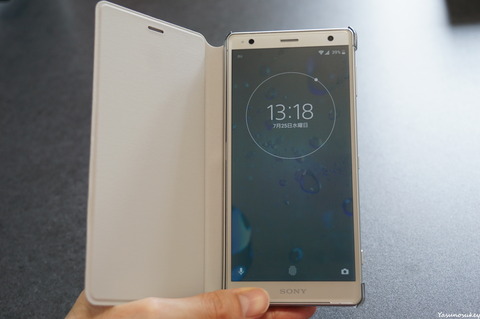 I knew this was going to be a problem even before I bought the phone, but the XZ2 is extremely slippery! The smooth glass on the back makes it easy to slide off any surface, so a smartphone case is absolutely essential to keep you from dropping it. In fact, I accidently dropped it onto the bed while I was taking pictures.
For this reason, I initicially bought a flip case from a mobile device accessory maker called Trinity.
I stopped using it and bought Sony's cover.
It doesn't have a strap holder, yet you can use it as a stand. Also, you can select the color that matches the phone perfectly.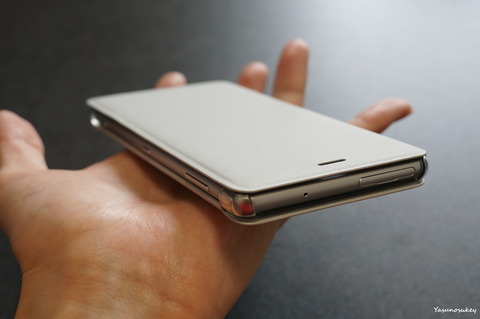 I was worried that it might slip off my hand because there is no strap, but it turned out really well. The surface is really smooth, but it's not slippery, which I think is great.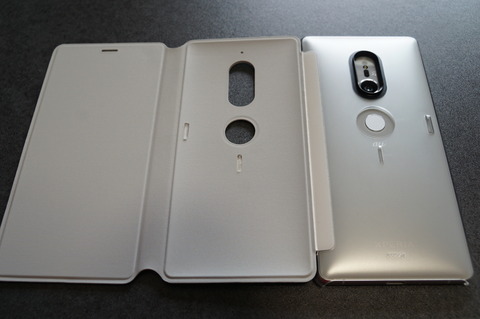 You can use it as a stand by opening up the cover. There are two tiny hooks inside, and you can unlock them when you pull up the phone tray, and then you can put the phone upright. The cover is high-quality and easy to hold, so I really like it.
▼Qi wireless charger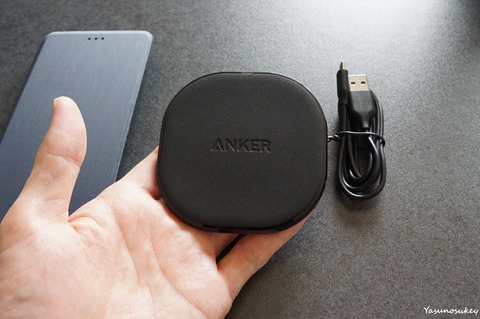 I got a Qi wireless charger from Anker, PowerPort Qi 10.
When I opened the box, I was surprised by how small the charging pad was. The top of the pad is spongy-touch, which is going to keep your phone from sliding off the pad. I do not think your phone will slip off of it unless you put it on an uneven surface.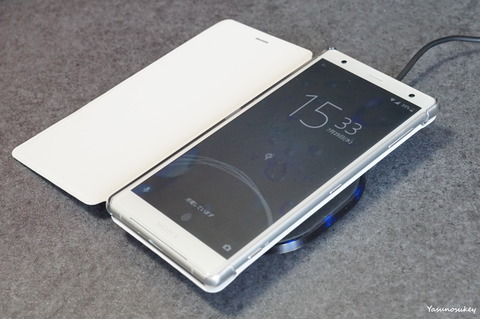 As the description on the official website said that it can charge through a cover that's up to 5mm, it charges my phone through the thick case. It's so handy that you can charge just by placing your phone on the pad!
As you can see in the picture, when you put your phone on the right place, the Qi mark pops up on the screen, so you will certainly know that it's charging. My tablet, Nexus 7 (2013), also has a Qi receiver, so I can charge both batteries on this charger.
Side note: It gets as warm as body temperature while charging, so I'm going to make sure that it won't overheat before I try charging overnight.
▼Blue light reduction film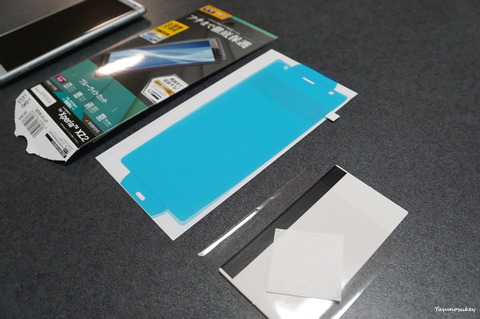 I applied a blue light reduction film to my phone. It's from "rasutabanana" and it covers the entire screen and frame. I like that it's anti-glare, and the color is neutral.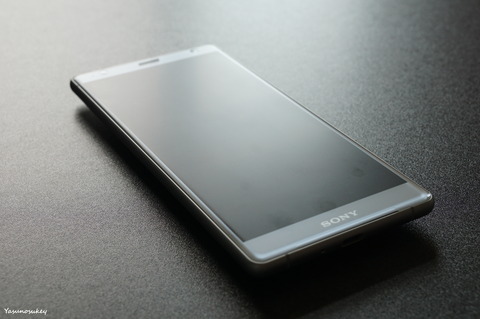 It does not affect the response of my phone. It came with a spatula to push bubbles out while applying. The only drawback of this product is that it can be smudged with your fingerprints and that it's not easy to clean it.
You have to be careful about the side. Blue masks are on both front and back sides on the protection film, so make sure the "tab" comes to the left when you align the film.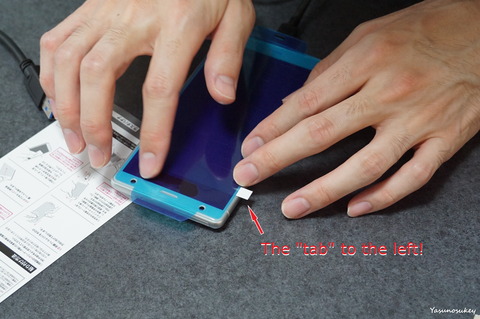 Read your instructions very, very carefully. I'm not good at applying screen protectors, but this time I managed successfully without trapping any bubbles. Fortunately, the film fits in the flip cover neatly.
▶
Back to INDEX
Things that I don't like
I don't have any particular thing that I don't like about my phone.
However, it feels like the maximum call volume is a little bit lower than I would hope. I have no problem when I call in a quiet environment, but I wonder if it is good enough when I call in a big city or near a construction site.
Also, I am wondering if I will miss the 3.5 mm audio jack. I don't really know how or if it's going to affect me because I have not watched videos or listened to music much on the phone so far.
▶
Back to INDEX
Comparing the photo quality with other cameras
I tried taking pictures with the
Xperia XZ2
(95,000yen) along with other cameras:
Cybershot WX70
(my mom's 18,000yen compact digital camera) and
a6000
(my 69,000yen mirrorless camera) in order to compare the photo qualities. Take a look!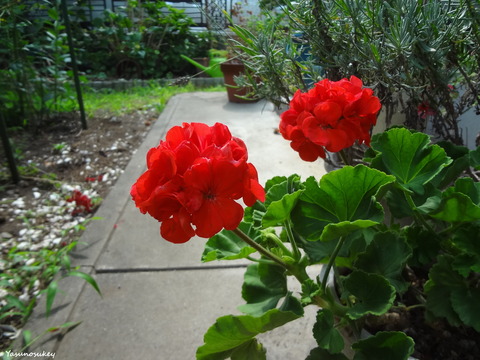 Xperia XZ2
Aperture: ƒ/2, Focal Length: 4mm, Exposure Time: 1/250, ISO: 40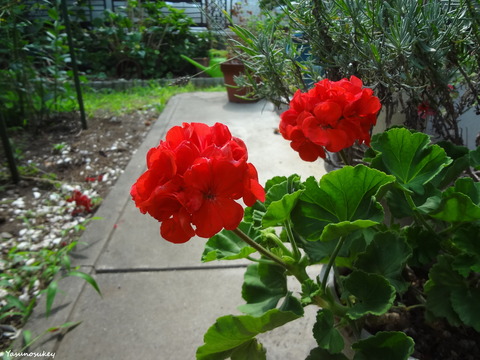 Cybershot WX70
Aperture: ƒ/2.6, Focal Length: 4mm, Exposure Time: 1/320, ISO: 100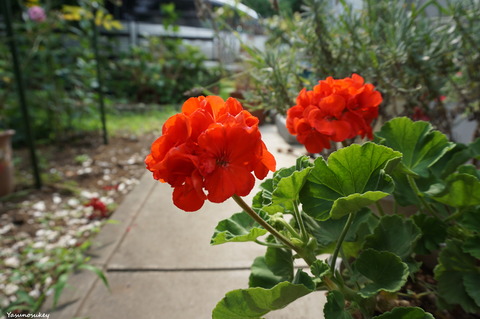 a6000 (Kit lens)
Aperture: ƒ/5.6, Focal Length: 16mm, Exposure Time: 1/100, ISO: 100
It's only natural, but the image from the a6000 is the sharpest, even though it was with the kit lens. However, the image from the XZ2 is not bad at all with natural colors. I'll show you another sample.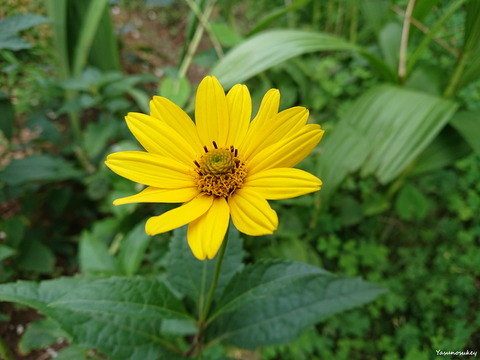 Xperia XZ2
Aperture: ƒ/2, Focal Length: 4mm, Exposure Time: 1/160, ISO: 50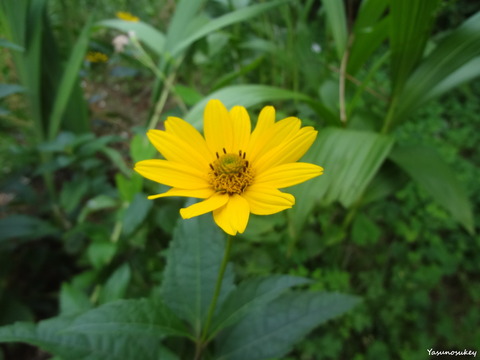 Cybershot WX70
Aperture: ƒ/2.6, Focal Length: 4mm, Exposure Time: 1/200, ISO: 100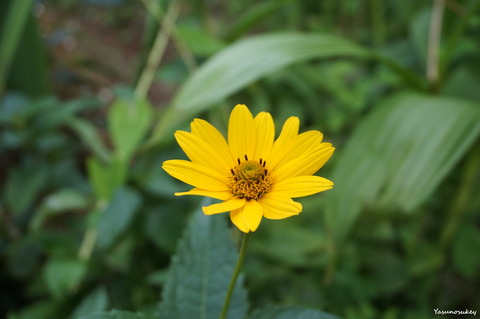 a6000 (Kit lens)
Aperture: ƒ/5.6, Focal Length: 29mm, Exposure Time: 1/640, ISO: 1000
I tried really hard to get the flower in focus with the Cyber-shot WX70, but it didn't work. I could have taken a better picture if I knew how to use it better. On the other hand, I didn't even have to try to take a picture in focus with the XZ2. All I had to do was to press (or tap) the shutter button. At first glance, I could not even tell whether it was taken with the XZ2 or a6000. It seems that I will be able to take really good pictures once I have learned the strengths and weaknesses of the camera.
Related posts:Articles on pictures taken with Sony a6000>>HERE
▶
Back to INDEX
Conclusion
The Xperia XZ2 is a very expensive smartphone that cost 95,040 yen (as of July in 2018) because it is new and works quickly with a very high quality camera.
I believe that the XZ2 will work as a watrer-proof second camera on rainy days, and I am really excited to take this phone out with me and capture a lot of fun moments even more than I do now.
I am going to post articles when I take good pictures with the XZ2, so please come visit my blog from time to time. I will enjoy photography more!
この記事の日本語版はこちら>>サブカメラとしても活躍【Sony Xperia XZ2】を買いました!! & おすすめアクセサリー紹介
スポンサーリンク