I finally, finally finished my TESOL course!!!
I have taken a long, long bumpy road to the completion of this course. I started taking this course in January 2015 and finished in February of 2019, which means it took four years and two months to complete it. There were many times when I thought that I would not make it through.
I am going to write about how I did with the final assignment and review what I learned from this course.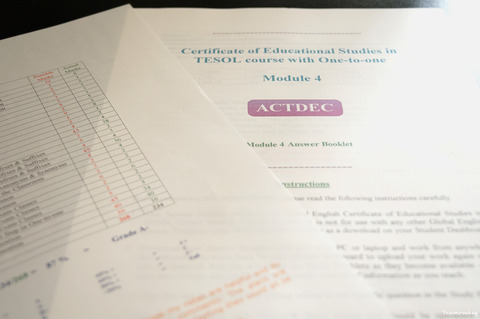 What is TESOL?
First, let me tell you about what TESOL is in the first place.
TESOL is the acronym for "Teaching English to Speakers of Other Languages," and it is methodology of teaching the English language to non-native speakers. It is also an international qualification.
You can study TESOL by taking an online course just like I did, or going to a TESOL school or a university. You will learn how to teach the English language effectively, so all the textbooks are written in English and assignments are also in English.
You can decide how deep you will go into the TESOL world by choosing courses that are designed to be studied for 100 hours, 120 hours, 180 hours and 250 hours.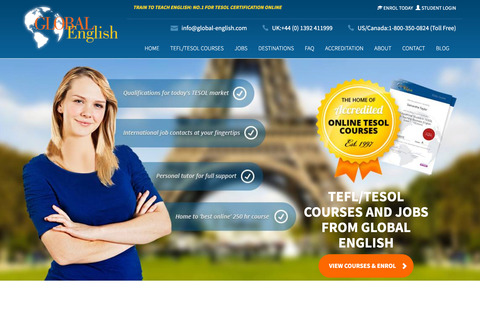 I chose the online course, "
180 hour LEVEL 4 TESOL with One-to-One,
" provided by a TESOL school in the U.K., Global English.
The course is divided into four sections called "Modules," and you will be assigned each Module on a Microsoft Word document. Once you have finished a Module, you will turn it in through your exclusive student page. You can finish this course when you have gotten a 50% or more on all Modules.
Global English
[External Link]
https://www.global-english.com/
The course duration is a year and a half. If you take longer, like I did, you can extend the duration by paying extra fee. However, I have heard that most students finish this course within a year or so.
▶
Back to INDEX
The result of Module 4
The score
The score I got was...

87%(A⁻)! (234 out of 268)

The score was down by 1% from the previous Module, but it did not bother me at all because I was just really happy with the completion of the course.
Things I did well
I got the perfect score on the "Use of English" section, which is an assessment of my proficiency in English, this time as well.
I did well with Question 7, in which you will write about how you would explain the differences between Present Perfect and Past Simple in 150 words. It was relatively easy. This is exactly the advantage that English learners have over native speakers.
For Question 27, I got the perfect score as well. In this question, you are instructed to write a 1000-word essay on classroom management with seven essential points for successful lessons.
Challenging questions
I had an extremely hard time solving Question 13, 17 and 26. For each of these questions, you will make a one-hour lesson with intermediate students. You are instructed to plan each lesson in five stages; "Warm-Up", "Presentation Stage", "Study Stage", "Practice Stage" and "Warm-Down." Although you will have to teach specific grammar points, you can decide the location, the number of students and their nationalities at will. In Q13, you will teach "conditionals," Q17 is about "prefixes and suffixes" and "present perfect and past simple" are featured in Q26.
My tutor pointed out that my lesson plans were heavily based on controlled activities with worksheets. And it would have been better if I had included more productive and less controlled activities such as a role-play and free-style composition.
I believe that he is right. Online English lessons are prone to be teacher-centered because you cannot have the kind of activities in which your students teach or compete with each other. In fact, I only have a role-play when I need to make sure if my students understand what we have covered as a variation of reading practice, and I have them practice writing as homework because online English lessons do not have enough time for it.
I realized that it was important to make lesson plans differently when you teach group lessons.
Things that I tried
・I was not able to plan three one-hour lessons by myself no matter how hard I tried, so I asked an ESL teacher that I know (an American) to let me observe his lesson. It was a reading-based lesson with nine high school students.
From the observation, I learned how to give hints, make groups and pairs and give feedback to keep your lesson active. This experience finally enabled me to think of how I would have group lessons.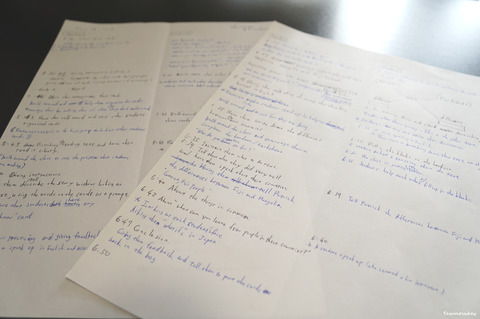 ▲These are the notes that I took during his lesson.
From the day I saw him teaching a group of students, I started to be able to imagine how I would have group lessons. I cannot be more grateful to him for letting me join his lesson.
・Until the previous module, I searched for lesson materials online and planned my lessons based on them. This time, however, I made the kind of lesson materials that I can use in my own lessons.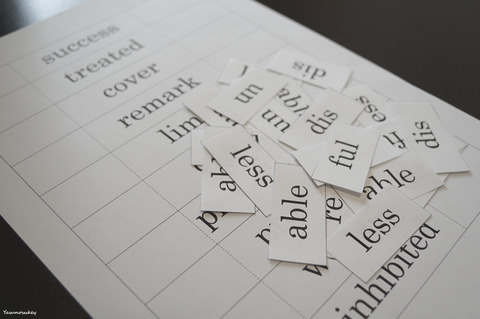 ▲This worksheet is for teaching prefixes and suffixes.
When I actually made worksheets and cards, I noticed flaws that they had and got hints for improvement. As a result, I have become able to make better lesson materials than before. I did not get to turn in all the materials that I had made for this course, but I will probably have the chance to use them in my actual lessons in the future.
▶
Back to INDEX
How long did it take to finish the course?
Just as the name implies, the expected duration of this course is 180 hours. I believe that it totally depends on your group lesson experiences as a teacher or as a student whether you can finish this course within this time period.
I kept the record of how much I studied throughout the course in my diary, so I will share it with you, though I'm not really sure if it would be of much use.

Module 1 : 62 hours 25 minutes
Module 2 : 93 hours 30 minutes
Module 3 : 79 hours 20 minutes
Module 4 : 126 hours 48 minutes
Total : 362 hours 3 minutes
To my surprise, I have had five months when I was not able to study even for a second due to my health problems. So I do not think it would take over four years to finish this course if only you could study a little each day...
Also, it was extremely difficult to write essays and imagine how to teach group lessons because I only graduated from a part-time high school and I haven't gone to any ESL schools. As an online one-on-one English tutor, it was challenging to think of how to get my imaginary group of students to have speaking practice or correction activity with each other.
Fee
The basic fee: 332 pounds or
63,123 yen
.
The couse duration was one year and a half, but it took me four years and two months to complete it, so I had to extend the duration by two years and nine months, which cost
57,517 yen
.
The total fee was
120,646 yen
.
It is a little disappointing that I had to extend the course and pay extra fee, but it is totally worth it, given that TESOL qualification is valid for good.
▶
Back to INDEX
Final results
Module 1 : 122 / 151 = 81% (B+)
Module 2 : 139 / 173 =80% (B+)
Module 3 : 219 / 248 =88% (A-)
Module 4 : 234 / 268 =87% (A-)
Total : 714 / 840 =85% (A)
There is no small plus or minus on the final result, so I got an overall score of 85%(A). The grade A is given to students whose score is 85% or higher, so I barely managed it. Last year, I started to think that I didn't care if my grade would be a B or C as long as I finished this course, but now I am really happy that it turned out be such a success.
▶
Back to INDEX
What I learned from this course
I started taking this course just to learn how to teach one-on-one. However, as I went further into the course, I came to realize that I hadn't thought much about the key factors to successful lessons. For instance, I learned how important it is to have warm-up activities, get your students ready for the main practice stage and set a specific goal and theme for all your lessons.
Furthermore, the assignments involve extensive reading, so I came across a great deal of activities and lesson ideas as I was reading many ESL articles online and books. I have adapted these activities and ideas in my actual lessons, and most of them are well-received. Also, I have become able to gather information more quickly and thoroughly as a result of the extensive reading. This will certainly be of help when I take the TOEIC test.
In addition, I learned a lot about how to write essays in English. I wrote three essays with a word limit of 500 to 1000 and more than ten 200-word essays through the course. My American friend corrected almost all my essays and lesson plans after Module 1, and I was happy to see the number of corrections decreased as I came toward the end.
▶
Back to INDEX
Conclusion
Since I am a Japanese English tutor working in Japan, TESOL may not be of much use as a qualification, but completing this course after four years made me feel proud and confident. I believe that this learning experience will help me in some ways as a tutor.

I am greatly relieved to have finished my TESOL at the moment. I will resume studying for the Eiken Grade 1 or the English proficiency test in Japan, after taking a little break from studying. I will never stop trying my best!
▶
Back to INDEX
Related posts
The Japanese version of this article>>TESOL通信講座を修了する!!〜学んだことまとめ〜
Previous post about the TESOL course>>Finally Finished the Second to Last Module in My TESOL Course
Read the previous posts about the TESOL course >>HERE
Read other posts in English >>HERE
スポンサーリンク