An online English tutor teaches English via online video chat.

Online English tutor is a fascinating job where you can teach students all over the world, not just in Japan.

When the Internet connection is bad, however, you will at times face the unexpected; you may have to go without the video or you may hear your student's voice as if it's coming from Mars. Sometimes you may have to give up on the lesson materials you have prepared due to those issues. You have different kinds of challenges from a conventional face-to-face English class.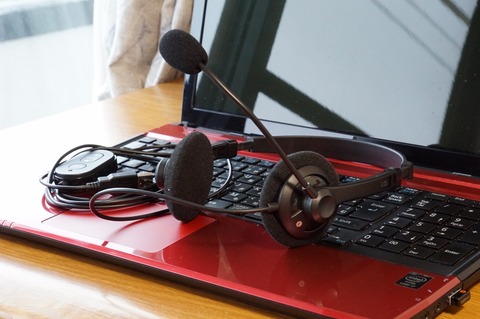 Since I became an online English tutor, I have had tons of things that I should or shouldn't have done. It will have been three years next month since I started this job.
Today, I am going to share three things that make it worthwhile to be an online English teacher.
Three Things That Made Me Happy
No.3 Scheduling a Lesson
You might not understand why I would be excited about this, so let me explain.
The online English school that I work with does not assign any student with any teacher, so it is all up to the student that decides which teacher he or she learns from. Therefore there is never a guarantee that a student will come back for more lessons.
You cannot teach without a student, so it never fails to delight me each time my student schedules my lesson.
It is incredible that the student chooses me from 170 or more teachers. (If you include teachers from other English schools, you are chosen from a huge number of teachers. It is truly incredible, and I am grateful for that.)
No.2 Students Passing Tests
I know it is obvious, but I find it rewarding when my students tell me that they have achieved their respective goals.
One of my specialties is practicing with my students for the EIKEN interview test, so I am really happy when I hear my students say that "I didn't get nervous because I had practiced with you" or "the test was easier than the practice" etc.
It is also rewarding when I hear that my student gets a good score on an entrance exam for high school.
I have yet to give a TOEIC session, so I should try hard to hear my students say "I got my target score!"
No.1 They Use the Expressions I Taught Them
I did not expect that this would be so delightful when I was a student.
After each lesson, I always give my student positive feedback via Instant Message, and I sometimes get a reply from them. I cannot help but grin when students use expressions we practiced together in their reply.
I really like it when my regular students learn expressions from me and use them very naturally a few weeks later.
There is nothing more rewarding than seeing my students use the expressions that I share because I always try to personalize lesson materials with many useful expressions.
Others
・It is great to hear feedback like "The lesson went by so quickly" or "Your lesson was fun" because I always try to make my lessons fun.
・Finding common interests: liking cars, liking music, having the same pet names, etc. When you find something in common with your student, your free topic conversation practice can be more fun, and the speaking practice will go really well as a result.
・Getting to talk with a variety of people. You can talk to people that you would otherwise never meet in your life; the old and young, male and female from various occupations. I find this aspect of the job fascinating, and I'm sure that it is beneficial not only for teachers but also for students.
Conclusion
If you cannot decide whether you want to be an online English tutor, I would highly recommend you to give it a try.
As is always said, you will understand the English language better by teaching it. Since you cannot teach what you don't know, you will have to study harder, which will lead to your English skills improving as a result.
Also, if you are not sure whether or not you would like to try a lesson yourself, I would highly recommend that you give it a try and schedule a lesson.
I can asure you that tutors are looking forward to meeting with you.
I have not been able to offer as many lessons as I want to due to feeling ill recently. Nevertheless, there must be something I can do to open more slots. I'm currently trying to more efficiently make my lesson materials.
The more lessons I have, the more students I can get to know. I'm really excited about it.
I wish I could find a place, either online or offline, where online English teachers share their expertise and experience.
At any rate, I will continue to try to be a better teacher.
▼My profile page on World Talk
https://www.worldtalk.jp/mypages/instructor_profile/6988

The original Japanese version of this article>>
オンライン英会話講師として嬉しかったことベスト3
他の英語記事>>こちら
Read More English Posts>>HERE
スポンサーリンク