I am going to write about how I studied English until I became an online English tutor in chronological order. It is a long story that covers from 2001 to 2013, but I would be happy if you take the time to read it.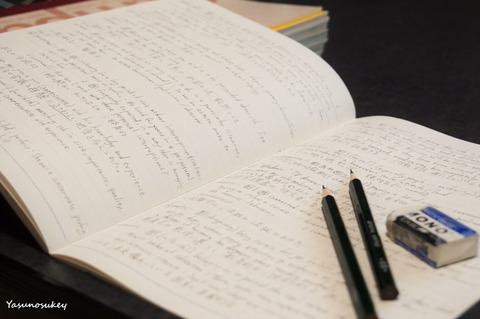 How I started learning English (2001)
It started as a complete joke.
I have an older brother who had trouble learning English. One day, he said he had a question he would never be able to solve from his homework. He let me see it, and I solved it right away. That was when I thought of making fun of him by solving every English question he couldn't answer.
I started studying English with a NHK radio English conversation program, "Kiso-Eigo 2" or the Basics of English 2. The 15-minute program had only three episodes a week, so it was relatively easy for me to take it into my daily routine.

I recorded it on MDs (mini-discs), and I would listen to each episode twice. In October of 2001, Kiso-Eigo featured a song from the Backstreet Boys, Shape Of My Heart, which made me realize how much I wanted to be able to speak English, and I started studying it harder.
For me, to be proficient in English means to be a fluent English speaker, so I took my pronunciation and intonation seriously. I read everything aloud even when I was feeling so unwell that I couldn't sit up.
At that time, I didn't have any opportunity or a need to speak English, so I would speak only with an ALT (Assistant Language Teacher) who came to my high school once or twice a month.
For speaking practice, I thought of going to an ESL school such as NOVA and ECC dozens of times. However, I already had my chronic illness (
Myalgic Enchephalomyelitis[ME/CFS]
), which made me house-bound, so
I just had to find a way to study at home alone
.
■Things that didn't work
・As a matter of fact, I tried to study English as soon as I got into high school. I wanted to do something new and started to listen to a NHK radio Business English conversation program.

I thought that advanced program would be good for every level of students, but it was obviously too difficult for me because I had not even mastered junior high school level of English, so I stopped listening after two months.

I spent another two months listening to the Radio English Conversation program, which was at a lower level, until I realized it was also too difficult.


I learned a lesson from this failure that you need to use textbooks that suit your level.
▶
Back to INDEX
The Eiken [the English Proficiency Test] & TOEIC (2002-)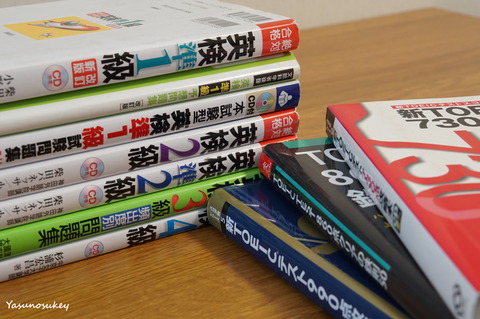 As you keep studying, you'll want to test your proficiency at some point. The Eiken Grade 4 was my first goal in learning English.
In October of 2002, I passed my first Eiken Grade 4 test at 17. Subsequently, I took the Grade 3 in June of 2003, and then I tried the second part of the test (interview test) for the first time.

At that time, I did not have any opportunities to speak English in my daily life, so I still remember how fun it was just to be able to speak the language in the interview.
In between 2003 and 2004, I studied for "Daiken" or the University Entrance Qualification Examinations in order to supplement credits for my high school. In 2005, I took re-entrance exams for my high school because I was not able to graduate from it within six years (you have to pass re-entrance exams or leave if you cannot graduate within that period of time.)

During that time, I kept studying English just by listening to NHK radio English programs.
First plateau

I passed the Eiken Grade pre-2 in November of 2006 when I was 21 years old. That was when

I got torn between continuing to study English or starting to learn sometning different

.

My English was at a level where I could enjoy travelling abroad or chatting with my friends, yet it was definitely not good enough to work as a professional.

Having studied English for the past five years, I knew how hard it would be to reach that level, so I lost my motivation

.

One day, when I was at the station waiting for my train to go home from school, I saw a south-east Asian looking guy wandering around with an anxious face. It seemed that he didn't know where to go.

Knowing I would surely miss my train if I talked to him and had to wait for another 40 minutes for the next train (we have four trains an hour at most in a rural area in Ibaraki!), I wondered if I should ask him if he needed help. After thorough consideration, I made up my mind, and spoke to him in English.

It turned out that I was right: he didn't know where to catch his train. I didn't know where it was either, so I asked a station officer in Japanese and told him what he said in English. I can still clearly remember his face of relief, though my English was pretty bad because I was nervous.

Right at the moment, I thought

"It's incredible that English can bridge people from different parts of the world! I really want to get an English related job!,"

and I have never looked back.

From that day, I started learning English with the aim of reaching a professional level, ratner than just as a hobby.
I passed the Eiken Grade 2 in July of 2007.
A teacher from high school helped me with the interview tests of the Eiken Grade pre-2 and 2. He gave me a mock interview prior to each test on the phone.

He would always encourage me by writing me letters or sending me newspaper cuttings whenever I hit a wall.I look up to him not only as a teacher but also as a person.
In September of 2007, I had my first try at the TOEIC or Test of English for International Communication, after going halfway through a textbook by Oubunsha. I got a 560 (of 990.)
By the time I passed the Eiken Grade 2, the linguistical barrier had gotten lower in terms of communication. Yet I was not able to enjoy dramas without subtitles or read English books without a dictionary.

The huge gap between that level and the practical level tormented me for a long time until after I passed the Eiken Grade pre-1. I knew it was due to my limited vocabulary, but it was hard because you can never increase vocabulary all at once.
A language geek
・I was so desperate to use English that I would talk to my family, cousins and friends in English, even though none of them spoke that language.

Now I know I was such a nuisance, I am thankful that they didn't try to discourage me from doing that.
▶
Back to INDEX
A friend from high school (2006-)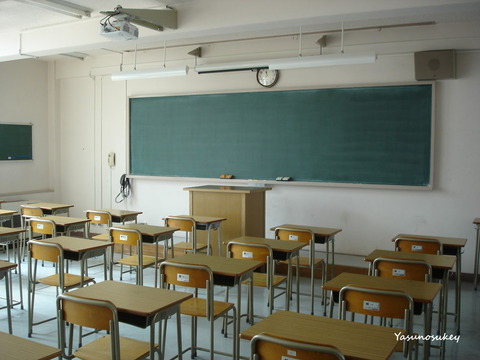 From around 2006,
a Japanese friend from high school started studying English, and we began to talk to each other in English
.
I also started exchanging letters with pen pals living abroad. It's great to have someone to learn with, so I started to try to express everything in English wherever I was and whatever I did. 
I once had seven or eight pen pals in the UK, China, South Korea, Turkey and Sri-Lanka. I still keep in touch with a few of them.
At first, my high school friend and I started adding one little English sentence when we texted. Then we gradually added one more and two more until we became able to make plans entirely in English.
We were at the same level and competed with each other by comparing how many new expressions we learned and how fluent we became. If it hadn't been for him, I might have gotten tired of studying English and stopped learning it long ago.
How often did I use English?
Even when I began corresponding with pen pals, I did not have many occasions to speak English. Aside from talks with an ALT (Assistant Language Teacher) who would come to my high school, I only had a few times a year to speak English at municipal or prefectural international communication events.
I always tried really hard to find a place where I had to use English on a daily basis. I think that's one of the hardest things that English learners in Japan face
.
Not everything goes well
・There were a lot of things that I enjoyed through exchanging letters with my pen pals. A few of them have sent me birthday gifts and others have sent me their local magazines as presents. However, there were things that did not work out.



One day, my laptop got infected with a computer virus when I played back a CD that one of my pen pals sent me. I told her about the virus, and she reluctantly apologized for that.

From then on, she kept blamining me for making her apologize, so we eventually stopped our correspondence.

▼An article on snail mails (only in Japanese)




After passing the Eiken Grade 2, I started to think about what kind of job I wanted. Considering that I was ill, I decided to look for a job that can be done at home. For me, that was translation.

I did research on several vocational schools of translation and I learned that almost all translation courses were intended for students whose English skills are equivalent to the Eiken Grade pre-1 or higher. So I decided to pass the Eiken first.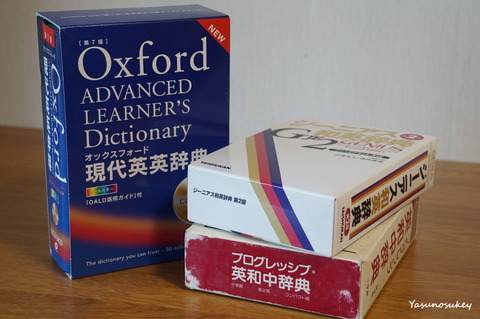 The Eiken Grade pre-1 & TOEIC
I switched to an English-English dictionary from bilingual ones because most advanced vocabulary looked the same when I translated it into Japanese.
I also started reading newspapers. I was not able to read a whole newspaper, so I just tried to read one article a day. I went online and printed out an interesting article and read it aloud while underlining words and expressions for which I did not immediately understand the meanings.

I checked the meaning and pronunciation in a dictionary and wrote them down. I read the article aloud for the second time to see if that article made sense. I then read it aloud one last time.
I added another NHK radio program, "Nyumon Business" or Business English for Beginners, to my daily routine. I pushed myself really hard to expand my vocabulary.
The Eiken Grade pre-1 was so difficult that I failed it twice (I was only two points short on my second try.) I finally passed it at my third attempt in July of 2010. I was so happy that my whole body was shaking after I checked the results.
Prior to that Eiken attempt, I took the TOEIC test in January and I got a 685 (of 990.) Now that I was about to pass the Eiken Grade pre-1, I was expecting to get at least a 700 or above, so I was disappointed.

That being said, I only worked on the said Oubunsha textbook one and a half times and went over a U-can textbook half way through, so the score was completely reasonable.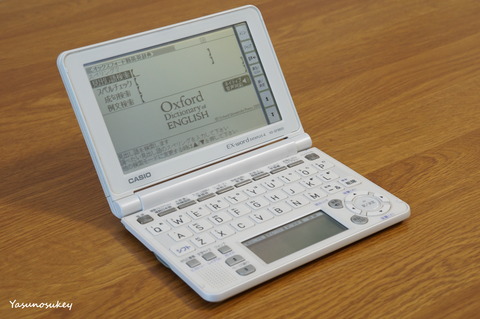 ▲Casio Ex-Word XD-GF9800. I used it so much that the keys were worn out and the circuit board broke in three years. I highly recommend to use an electronic dictionary because it enables you to check pronunciation easily.
I jumped right into studying translation in August of 2010 by taking a correspondence course from Fellow Academy, a vocational school of translation. "Step 24" was my first translation course where I learned English grammar thoroughly.

It was my first time to study grammar, so it was really difficult, but the knowledge that I learned then helps me a lot now as an English tutor.


In March of 2011, I finally graduated from high school after 11 years of struggle. I became unemployed and continued studying translation.
I then studied translation of business documents and contracts until I stopped taking courses in November of 2012. (I still enjoy translation as a hobby.)
How often did I use English?
From 2009, I got opportunities to use English as I started chatting once a week with an English pen pal and interacting with people from overseas via SNS. However, I did not get to actually "speak" in English on a daily basis.
Things that didn't work
・One day, my English pen pal and I were on instant message, and I was about to ask an English question as always when she looked kind of irritated and said "Don't you have any questions apart from English?"

I was talking only about English learning, so it made sense that she got tired of it. Friends are not English teachers. You need to keep that in mind.

・I don't know why, but I often mistake "five" for "eight" and vice versa in English. It's okay when you do just passive activities like reading, but it isn't when you refer to someone's age.

I was talking to a 25 year old American woman when my friend joined the conversation. Introducing her to my friend, I had "25 years old" visually in my head, but my mouth told him she was "twenty-eight years old." That was when she glared at me.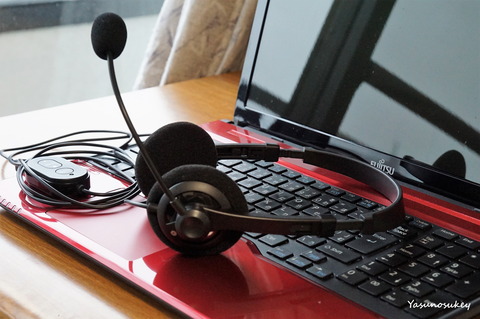 As a matter of fact, I had no interest in teaching as a profession. However, in 2011, a friend of mine asked me to teach her English and I found teaching really fun!

I never thought it would be so much fun to share something that I know. That was when I got interested in becoming a teacher.
Furthermore, I like the fact that online English tutors can schedule their lessons at their own discretion. Meanwhile, translators have to take on work when it comes in.
Since July of 2013, I have worked as an online English tutor. I had never taken an online English lesson before I got this job. My English qualifications back then were the Eiken Grade pre-1 and a TOEIC score of 755. I was the only one whose TOEIC score was in 700s in my English school.

I would never have applied for this job if I had known that I would go though so much trouble afterwards because of my limited capability both in English and teaching.
I, therefore, began to take online English lessons (as a student) and look for language exchange partners to improve my English.
I also started studying TESOL (Teaching English to Speakers of Other Languages) in January of 2015 to become a better English teacher.
Read TESOL related posts>>HERE
▶
Back to INDEX
Conclusion
That's all for now. I have written about how I learned English before I became an English tutor.
I have been studying English with extremely limited energy and time because of my chronic illness.

I have never met anyone who is in this line of work with the same illness, so I have always had to find a way for myself to improve my English, and it has been a very lonely path.
I hope this article will be helpful for those who have the same illness or who want to be an English tutor.
I will write about how I have been learning English for the Eiken and the TOEIC test in a different post.
▶
Back to INDEX
Related posts
The Japanese version of this article>>
私の英語学習歴 ~オンライン英会話講師になるまで~
After I became an online English tutor...>>
Three Best Moments as an Online English Teacher
I made a lot of mistakes>>
【Learning From Mistakes】Tips for New ESL Tutors to Make Lessons Successful

スポンサーリンク